MOBILIZING & MOVING TOWARDS A BRIGHTER FUTURE!
As early as January, Chinese tourists arrived in Thailand to celebrate the Chinese New Year unknowingly bringing the Coronavirus. Integrated Tribal Development Foundation ( I.T.D.F.) Directors Mike and Becky Mann and staff were moving forward with projects of clean water and beyond. The new Lanna Café and I.T.D.F. Building Compound was nearing completion and the preparation for the grand opening (and anticipated transition to the new site) were underway. As the virus was starting to be identified as threatening, I.T.D.F began to discuss the expected, necessary safety measures that would be needed to put into place for staff and villagers should this virus continue to spread. With the help of the Lanna Foundation, they also began to start formulating a plan for the anticipated economic effects this virus could potentially have on these villages.
I.T.D.F.'s first sign of the effects of this virus was during a visit by Noppadon Wanakhita, water project Manager, who was visiting the future site of a clean water project. He was turned away by the village elder, describing that they were shutting down the entrance to the village to all incoming visitors to protect the community and their health.
The Thailand Government was beginning to enforce shutdowns of all areas that would bring crowds together to prevent more spreading of the virus. A government-mandated "shelter in place" was implemented for everyone until the virus curve flattened.
Integrated Tribal Development Foundation's Response to COVID 19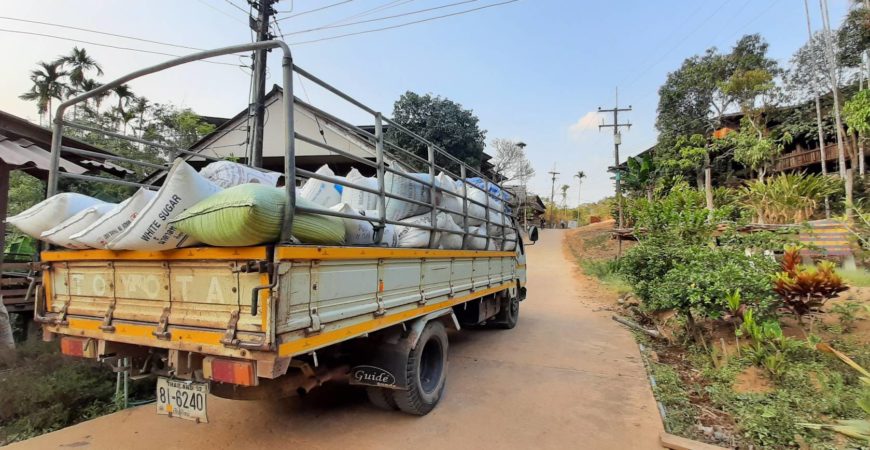 I.T.D.F. quickly evaluated the current safety of staff and villagers and shut down all further environmental projects.
I.T.D.F Coffee Project Staff did one last run to several coffee farmers who had harvested their green beans to be sold to I.T.D.F.. They urgently mobilized trucks to make the final green coffee bean pick-up from these farmers. Village farmers urgently met them at the road entrances of communities, with bags of green beans that they had been preparing to sell to I.T.D.F. as their means of income. If I.T.D.F. had not made this last-minute pick-up, it would have meant severe income loss for these village farmers affecting the businesses of Lanna Coffee Co and Lanna Cafe Thailand, and their retail and restaurant customers… possibly even yourself as a coffee consumer.
I.T.D.F. in compliance with the government mandate – implemented 'Shelter in Place' for all its staff. This "shelter in place" has given much-needed family time for all the I.T.D.F. staff members who sometimes do not see their families for weeks due to the demand (and remote locations) of projects; however, there has still been direct communication with staff managers weekly to plan and prepare.
The staff is ready at a moment's notice to mobilize and move forward with the much-needed projects to empower lives and bring hope to the hill tribe people.
Ma Oh Jo School Update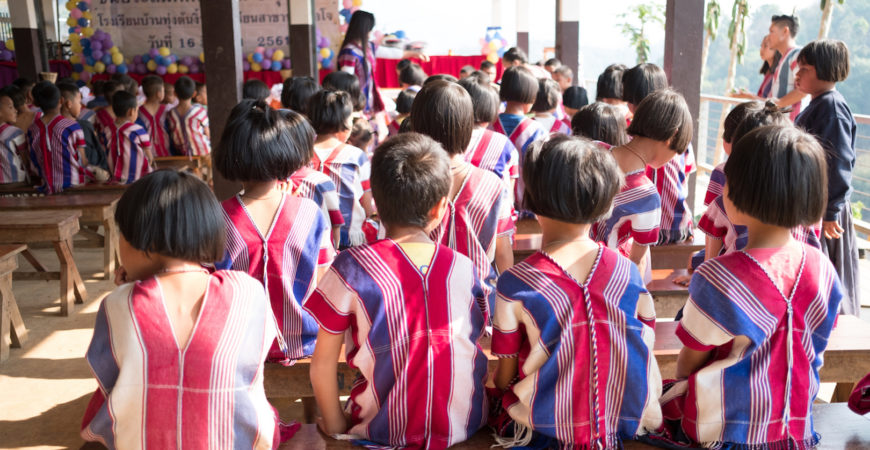 Ma Oh Jo Elementary School and Student Hostel are all in "shelter in place" at the moment. The 6th-grade graduation at I.T.D.F.'s Mah Oh Jo Elementary had just taken place prior to the lockdown and all students are now on summer break; some returning to their prospective villages remaining in a "shelter in place"with family.
School Principal Nam and I.T.D.F.'s teachers continue to communicate with I.T.D.F. Headquarters as they remain in lockdown.
Lanna Cafe Update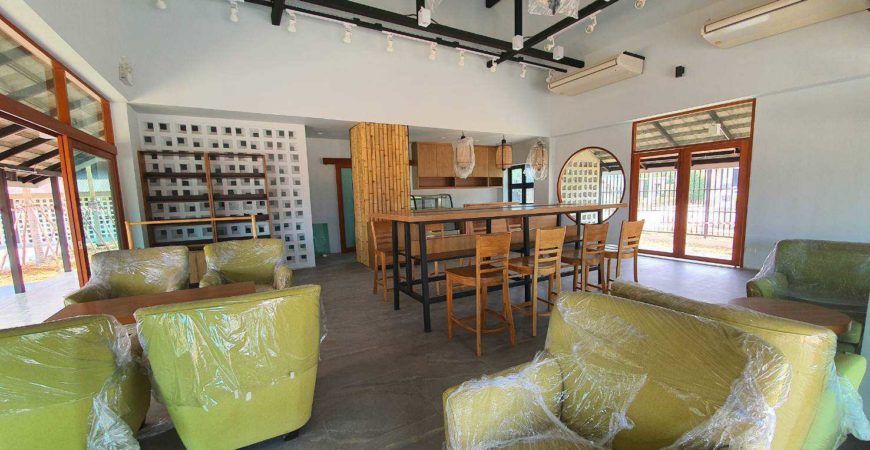 The Lanna Café Chiang Mai shut down except for offering "coffee to go" to their customers with all the safe practices in place. The coffee roasting staff continued to roast and package all the beans brought down from the emergency pick-up to meet the supply/demand needs of their customers utilizing safe practices of curbside drop off. They continued to prepare for the upcoming transition to the new location of the Lanna Café and roastery at the new I.T.D.F. site.
New Building Update and Moving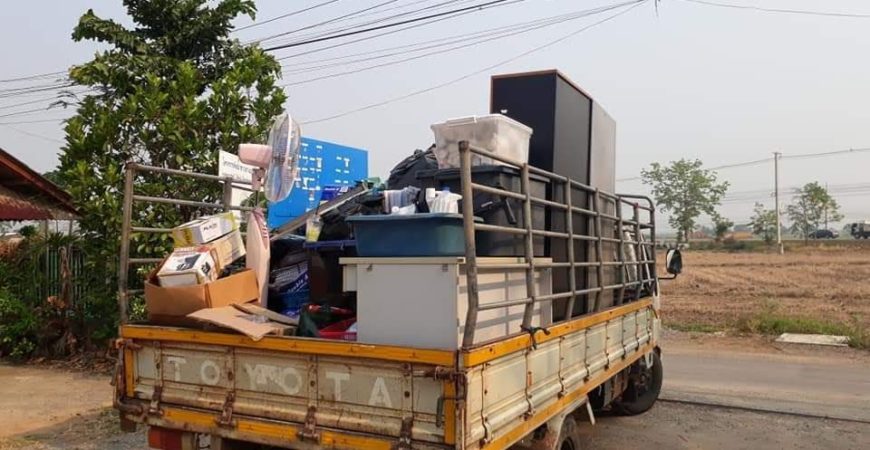 Presently, I.T.D.F. is in motion, making the transition from the existing I.T.D.F. café, roasting area, and office location to the beautiful new site. The Compound consists of the Lanna Café, roasting and packing area space, a coffee cupping room, staff housing, offices, project storage area, and a future community garden to be used by the café and staff. These new areas are more efficient and provide new opportunities to raise awareness of the vital work of I.T.D.F. and the empowerment of lives through clean water and beyond.
---
Lanna Foundation's Response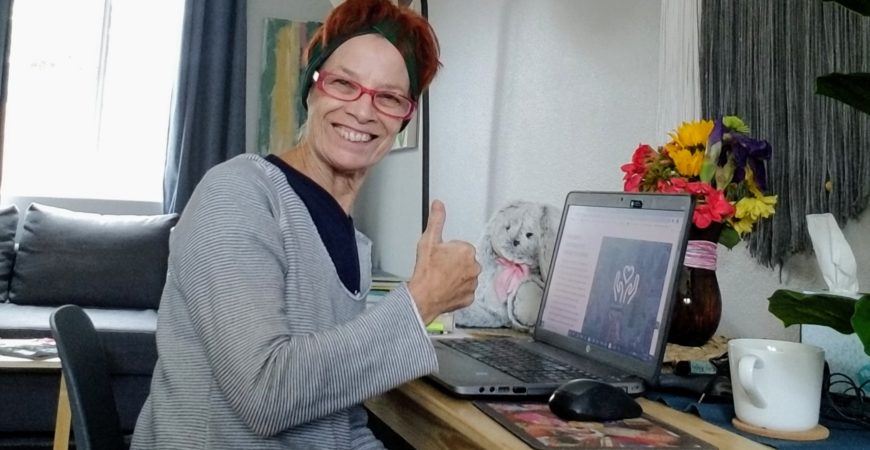 I.T.D.F. and Lanna Foundation recognize the severity of COVID-19. Our board members are currently taking all measures of safety precautions, as well as evaluating and meeting any financial hardships that I.T.D.F. staff and villagers might incur during this challenging time.
We are utilizing this vital time for evaluating and improving our best practices. We are most grateful for your financial partnership to continue to strengthen and uplift the human spirit through practical resources. Together, the ultimate goal remains the same, and we continue to empower lives!
The needs haven't changed within the hill tribe for clean water, health/sanitation, education and more. We will continue to still move forward to meet the needs of those who do not have access to resources and live in poverty as a result.
During this crisis, the importance of the need for human connection within our own family, friends, and our vital donors have been further reinforced. In the next couple of weeks, our board members will be reaching out to set up phone calls or zoom chats to see how you and your family are doing and how we can help.
We look forward to connecting with you soon!